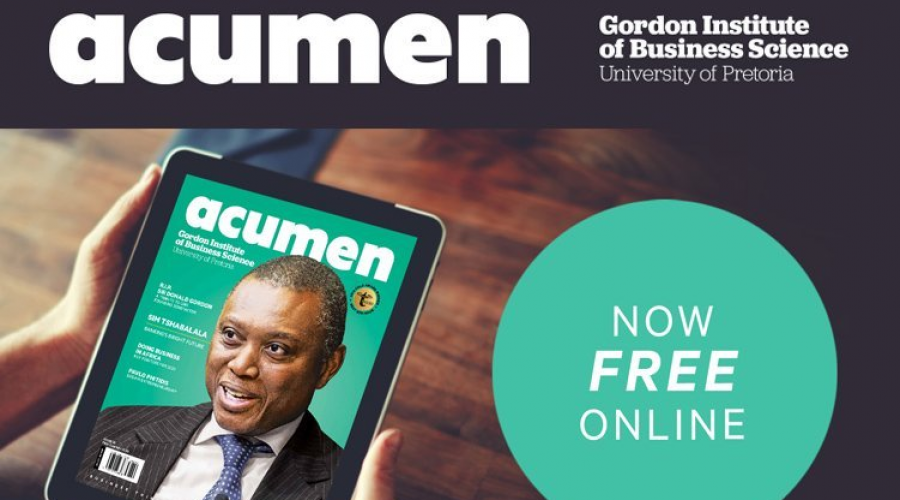 Big Digital Boost for Acumen
digital media
acumen magazine
gibs
pretoria university
Acumen, the official magazine of Pretoria University's Gordon Institute of Business Science (GIBS), is making a significant switch which emphasises the crucial importance of digital media.
Acumen's current edition and all subsequent editions will be made available, free of charge, to an audience of more than 250,000 within the GIBS sphere of influence.
You can access the current edition here.
"We may be locked down, but we're loaded for online," says Acumen's publisher, Sean Press, CEO of Contact Media.
"We're living in extremely stressful times, but one thing we all agree on is that we will eventually come through this pandemic. No question, we're going to find ourselves in a very different place from the one we inhabited so comfortably two or three months ago. It's B.C. versus A.C. – Before Coronavirus and After Coronavirus.
"The virus is forcing us to change the way we work, the way we think, and the way we consume media. As a result, we see a major opportunity here for a magazine like Acumen, backed by GIBS, one of South Africa's and the continent's foremost business schools," says Press.
From a print run of 15,000, the new strategy increases Acumen's reach exponentially. Using GIBS' already-established digital channels, including a 105,000 subscribers-only newsletter, along with GIBS' LinkedIn, Facebook, Twitter and Instagram followers, Acumen will now be available to an audience of slightly more than 250,000 readers.
"This is also a major opportunity for advertisers to reach GIBS' alumni, students and influencers at a time when brands need reputable platforms to help them get through the pandemic," says Press.
"We're all aware of the importance of credible media in these challenging moments, as marketers face an onslaught of fake news. Acumen, allied to the GIBS brand, is a remarkably powerful and highly credible combination," says Press, adding that "the new digital strategy makes Acumen an even more attractive investment."